I owe you an update on my post of two days ago titled "Travel Abroad." Today's piece, from The Atlantic, is the most detailed and trustworthy account I could find of the current state of  Khizr Khan's travel story.
The Curious Case of Khizr Khan's 'Travel Privileges'
It's not clear precisely what led to the cancellation of an event in Toronto, Canada, featuring the Gold Star father known for his criticism of Donald Trump.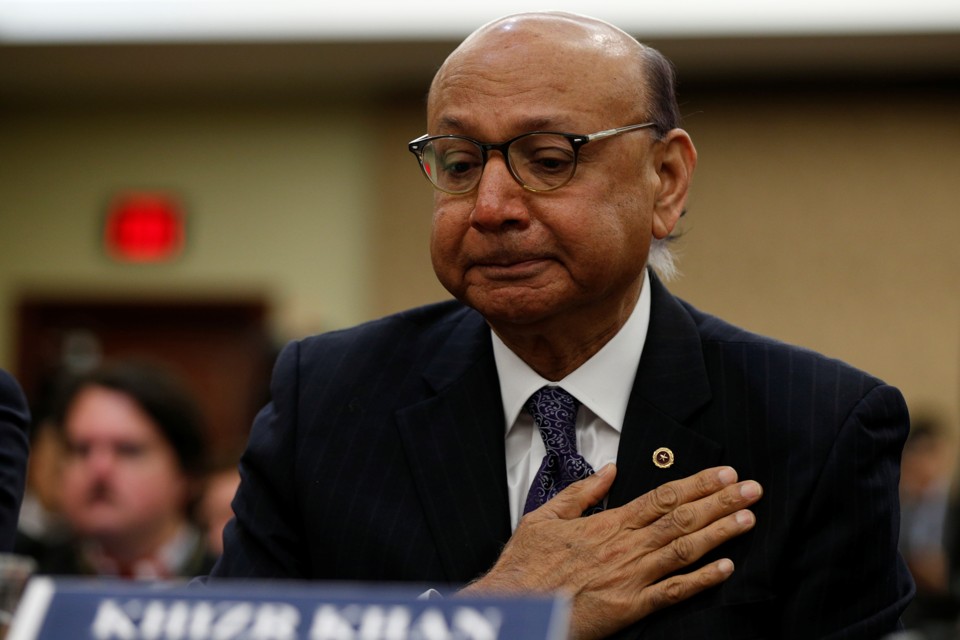 Khizr Khan takes part in a discussion on the Muslim and refugee ban on Capitol Hill in Washington.
By Clare Foran, The Atlantic, March 7, 2017
More than 24 hours after organizers claimed Monday that Khizr Khan, the Gold Star father widely known for his criticisms of President Trump, had canceled an event in Canada after finding out his "travel privileges are being reviewed," there's still no concrete evidence to substantiate the claim.
The statement quickly ricocheted around social media, despite sparkingskepticism among journalists. But the circumstances surrounding the event's cancellation remain murky. On Tuesday, The Washington Post reported that Bob Ramsay of Ramsay Talks said he was not aware of "exactly who conducted the review," but indicated that based on his communication with Khan, "it was certainly U.S. authorities."
A spokesman with U.S. Customs and Border Protection declined to discuss anything specifically related to Khan, citing privacy, but said in an e-mail that it "does not contact travelers in advance of their travel out of the United States." The officer also emphasized that any U.S. citizen with a passport is permitted to travel abroad. According to 
a New York Times report 
from July, Khan "became a United States citizen after emigrating from Pakistan in 1980."
Khan himself is doing little to clear up the confusion. An email sent to the KM Khan law office, which lists Khizr Khan as an attorney, on Monday was returned with a brief response: "I have no comments." It's unclear whether it was Khan himself who replied. Multiple media outlets, including The Washington Post, Reuters, McClatchy, and Politico, reported that Khan declined or did not respond to additional requests for comment.

William Stock, an immigration lawyer based in Philadelphia, professed his puzzlement about Khan's account. "Mr. Khan has not provided any details that would allow me to figure out what the heck he's talking about," said Stock.

He added that he was surprised by the report, in part because it's not clear what "travel privileges" is referring to. "The use of that term makes no sense," said Stock, who is the president of the American Immigration Lawyers Association. "International travel has generally been seen as a right for U.S. citizens, not a privilege."
Stock noted that participation in an expedited travel-screening program like Global Entry, which is run by U.S. Customs and Border Protection to 
allow
 pre-screened travelers to move more quickly through airports after arriving in the United States, might more accurately be described as a travel privilege. But there's nothing in the initial report to suggest that Khan is a member of that program.
The Daily Beast wrote that a spokesman for U.S. Customs and Border Protection broached the subject of Global Entry without prompting, and speculated in the sub-headline of its article that "it may be that his [Khan's] Global Entry status is in trouble." However, it noted that Khan had no comment when asked if the Global Entry program had anything to do with the event cancellation.

The travel plans of the average American citizen would, of course, not generate the intense media coverage Khan has received. But Khan, the father of a slain Muslim American soldier, went from relative obscurity to become a high-profile political figure and Trump critic last summer, and he has remained critical of the president since.

Khan first came to prominence when he rebuked Trump at the Democratic National Convention, questioning whether the then-Republican presidential candidate had ever read the U.S. Constitution and accusing him of smearing "the character of Muslims." Trump later responded in a statement that although he feels "for the loss of his son … Mr. Khan, who has never met me, has no right to stand in front of millions of people and claim I have never read the Constitution, (which is false) and say many other inaccurate things."

The intensity of the coverage may have also had to do with timing: The notice of cancellation came on Monday, the same day the Trump administration issued a revised version of its travel ban. The original version of the ban, which was issued in January, prohibited travelers from seven Muslim-majority nations. Khan himself had been critical of its first iteration, including in an interview with The Toronto Star last week.

But until Khan himself chooses to clarify the claims made in his name, it may be impossible to tell what actually led to the cancellation of the Toronto event.